The 5th Kisna conference saw a record attendance of retailers who enjoyed the program which was a perfect combination of prizes and entertainment.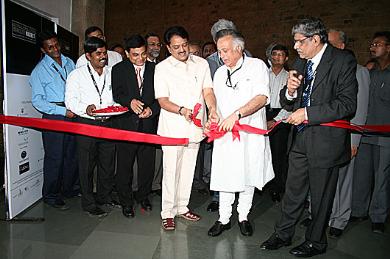 India's second International Diamond Conference Mines to Market commenced on April 26, 2007 for a 2 day session in the presence of dignitaries from Maharashtra government and other countries at Mumbai. The Chief Minister of Maharashtra, Vilasrao Deshmukh and Union Minister of State for Commerce Jairam Ramesh along with GJEPC Chairman Sanjay Kothari presided over the inauguration ceremony. Others who shared the dais were Minister of Minerals, energy and water resources of Botswana P.H.K Kedikilwe, Joint Minister in the Cabinet of Prime Minister of Angola, Anguinaldo Jame, Praveen Shankar Pandya, Bakul Mehta, Vasant Mehta & Hemant Shah. The important conference was well-attended by prominent leaders of the diamond industry.
Relations-Making Platform :
While addressing the gathering Sanjay Kothari defined the Conference as an international relationship-making platform for the benefit of the stakeholders of the diamond industry. %% The two day long International Diamond Conference threw up several stirring facts to think upon. Primarily, the Conference discussions and presentations emphasized the need for beneficiation in African countries and procurement of diamond rough directly from the supplying countries like Africa and Russia. A discussion on the biggest prevailing challenge - synthetic diamonds was taken up seriously and attracted wide ranging views from the attendees. The Conference evidently served as a platform for networking. The delegates expressed delight to be a part of the enlightening sessions and keenly looked forward to attend yet another Conference of this chain in 2009.
Direct Rough Supply Needed :
India needs to procure rough directly to meet the challenges of the era. Acknowledging the pressing need the Conference invited Sergey Vybornov- President-Alrosa Co. Ltd. to keep the industry posted of developments at Alrosa. The total volume of rough diamond production by Alrosa's Russian- based Operations in 2006 in terms of value amounted to over US$ 2.45 billion. The aggregate diamonds sales, including those by its Russian subsidiaries, reached approximately US$ 2.95 billion. The total volume of sales, including the sales of polished diamonds of our own manufacture, for the first time in our history exceeded US$ 3 billion. Under the document entitled << Alrosa Development Guidelines for 2006-2015>>, the volumes of the company's production and sales would remain stable, with new underground mines to be commissioned on the Mir pipe in 2009, on the Udachnaya pipe in 2011, and on the Aikhal pipe in 2012. Currently prospecting and exploration is being carried out in six diamondiferrous areas in Sakha (Yakutia), and in North- Western Russia.
Alrosa Strategy Revealed :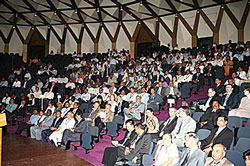 Sergei Vybornov revealed, "In order to be invited as a bidder a company must have a good business reputation, experience in the market and be registered in a Kimberley Process participant state. Rough diamonds of special sizes, that is those of 10.8 carats and above, are sold by ALROSA only at international auctions, in which, since the very first one in 2003, practically all those willing to take part and meeting all the above criteria have been able to participate. Nevertheless, business development and strategic perspective evidently require establishment of regular seller- buyer contract relationships. The concept provides for the majority of sales to be made to regular customers and defines the necessary minimal criteria to be met by them". During 2006 Alrosa selected a number of regular customers among the Russian-based companies, of which the largest is Kristall Smolensk. Today Alrosa begins a detailed study of foreign clientele for the selection of it's would–be regular customers from outside Russia.
India Invited for Investing :
P.H.K. Kedikilwe- Minister of Minerals, Energy and Water Resources, Botswana, Aguinaldo Jaime Head of Angola's economic team, Dr. Manuel Arnaldo Calado- President, Endiama, Yuri K. Okoemov- Director General, United Selling Organization of Alrosa and Abiel Mngomezulu- Deputy Director General: Mineral Policy & Promotion, Department of Minerals & Energy, South Africa delivered presentations on the opportunities available in their respective countries. The dignitaries from the African countries invited investment from India and promised all the support required. Indian Minister of State of Commerce Jairam Ramesh favored beneficiation in Africa and promised all the assistance needed.
In order to assure value-addition, the African countries also want to become diamond and jewellery manufacturing centres. P.H.K. Kedikilwe said, "Both political and economic imperatives have ultimately forced a strategic shift from concentration on the production side of the industry and wholesale export of rough diamonds to the development of a secondary diamond industry." He further elaborated the purpose of beneficiation, "The development of a secondary diamond industry in Botswana is an opportunity for us to create a few jobs, transfer some diamond skills to Botswana and to explore opportunities to forge strategic alliances and partnerships with the traditional diamond centres of the world, elite cutting & polishing companies and other industry stakeholders like fellow producer countries. Working together we produce greater value than the sum total of our individual efforts."
Umbrella Agreement Proposed :

Jairam Ramesh while addressing the press later said, "We are trying to have an umbrella agreement with the African countries for investment." He added, "There is very little direct purchase of diamond rough in India. It is in India's long term interest that we enter into direct transactions with the rough suppliers." The minister also informed that Reserve Bank of India has allowed advance payments for procurement of rough from Rio Tinto- UK, Endiama- Angola, Alrosa- Russia, BHP- Canada and Gokharan- Russia. %% To begin with Chaim Even – Zohar, Conference Moderator made a welcome remark on beneficiation in African countries, "India is probably also the only diamond manufacturing centre which will not be impacted by beneficiation in Africa. On the contrary, Indian and African manufacturing centres will become complementary- they will work together and prove once again that one and one can make more than two."
Synthetic Diamonds Not a Threat !
The most sensitive topic of discussion was Synthetic Diamonds: Opportunity or Threat. Ronnie Vanderlinden- President, Russian Classics Inc. and Stephane Fischler- Fischler Diamonds, Secretary General & Treasurer, IDMA were the experts who elaborated their opinions on the subject. Commenting on the issue Ronnie Vanderlinden remarked, "The phrase 'a diamond is forever' serves us well but the fact that a diamond mine is not forever should concern us. We had better find a way to serve ourselves. Just as with any natural source getting depleted and we look for alternatives, so should we look into our use of additional sources of diamonds. The fact is, now we have found it with laboratory-grown diamonds, and it is not only possible but profitable." He certainly envisioned synthetics to be an opportunity and not a threat, "A smile on the face of a newly engaged woman is the same, no matter if the stone in her ring was natural or cultured. Cultured colored diamonds are making people happy. They are beautiful and have great value. It makes all the sense in the world to embrace this new opportunity within our business."
Stephane Fischler stressed the three Ds- Detection, Disclosure, Differentiation and added, "We do have to make sure that dissemination of detection hardware within the industry is further optimized. Also, detection capabilities will be rendered worthless without full and most importantly sustained proactive disclosure all along the pipeline. Non-disclosure will result in a 'lose-lose' situation for both the products." He remarked - differentiation is the most critical of all Ds, "Price transparency is and will continue to have a major impact on the way we need to position our product. One will need to deploy an even greater array of marketing skills to continue to compete successfully through attractive differentiation, not to mention maintaining strict commitments to best practices." Fischler's advice to the industry was, "One very important aspect when making the decision to enter the synthetic diamond industry is to objectively evaluate the short term versus longer term opportunities as well as your position and credibility as a diamond supplier and retailer."
Rio Tinto Plans for India :
Besides these key concerns, a series of topics were paneled for discussion. Confidence in Diamonds by Steve Hodgson- MD, Rio Tinto Diamonds N.V. where he admitted Rio Tinto's diamond earnings falling by 27% from the previous year. He detailed the company's plans of investment in India, "The Bunder Project is at the early evaluation stage." He emphasized the need for sustainability of the US demand growth and emergence of new markets while development of new projects and increased exploration activity remain essential.
Dilemmas Before Manufacturing Centres by Shmuel Schnitzer- Honorary Life President, WFDB and Ketan Parikh- Senior Partner, Mahendra Brothers deliberated upon various possibilities and changing scenario of the global diamond industry. Schnitzer said, "In the past the division of roles amongst centres was clear with some being suppliers, others manufacturers and the rest consumers. Nowadays everything has opened up. The rough-diamond producing countries are no longer willing to suffice with income from royalties and taxes paid by the mining companies, they want much more. And thus we are witnessing the growth of new cutting centres that enjoy the advantage of direct supply from their own sources of rough. The picture of manufacturing today is much complicated than in the past, and the struggle over sources of rough is intensifying." Low profitability level of manufacturing operations was a cause of constant worry, following which Schnitzer suggested, " It does seem that a change is warranted in the proportions of their rough distribution strategy. To my mind it would be best to gradually increase sales through subsidiaries such as Diamdel, so that the free market forces of supply and demand would have more influence. The result will be a truer ratio between rough and polished prices, corresponding to the state of the market."
Value Creation & Sustainable Profitability in the Diamond Business :

Ingredients of a Successful Diamond Manufacturing Business was addressed by Kaushik Mehta- Chairman, Eurostar Diamond Traders and Vice President, HRD who highlighted the concept of commoditization and ways to fight it. Value addition and innovation were offered as means to combat commoditization. Hearts on Fire, Chopard, the LEO Diamond & Apple ipod were the success stories quoted in the presentation. %% The Kimberley Process & Beyond by K.G. Moshashane- Deputy Permanent Secretary Ministry of Minerals, Energy & Water Resources, Botswana was a detailed, thought provoking presentation.

Caroline Yuan, Director, Shanghai Diamond Exchange gave a brief update about the Chinese diamond market, "Potential consumption is based on a huge population of 1.3 billion, among which there were about 10 million couples getting married every year. A steady development has taken place in diamond manufacturing industry which processes more than 5 million carats of rough diamonds valued at US$1.2 billion," she said. In July 2006, the Chinese government further adjusted VAT rate for polished diamonds to 4 per cent from 17 per cent- the prevailing VAT rate for all other commodities in China and moved VAT on rough diamonds to the import stage. %% G. Loet Kniphorst-Global Head, International Diamond & Jewellery Group, ABN AMRO Bank NV and Bharati Rao- DMD & CCO, SBI detailed the financial position of the industry. Beryl Raff -Executive VP & General Merchandize Manager of Fine Jewellery, J.C.Penney made an impressive presentation on retail business based on her professional experiences.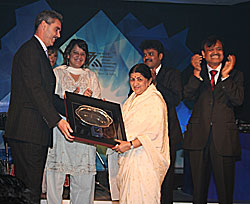 Hemant Shah- Convener, PM& BD Committee GJEPC, Anoop Mehta- President, Bharat Diamond Bourse and Praveen Shankar Pandya, Convener, Rough Diamond Sourcing Committee, GJEPC shared their views on various aspects of the Indian diamond industry. Anoop Mehta assured the completion of Bharat Diamond Bourse by the end of 2007. %% The attentive audience kept the momentum of the Conference alive by asking questions and reflecting opinions. The inspirational presentation by Martin Rapaport on Corporate Responsibility was thought- provoking and moderator Chaim Even-Zohar interspersed enough humor that kept attendees in good mood.
Lata Mangeshkar Honored by DTC :
At a glittering ceremony DTC honored awarded the 'Nightingale of India', Lata Mangeshkar with the 'Forever Indian Award'. Before this only Amitabh Bachchan was celebrated with this honor.